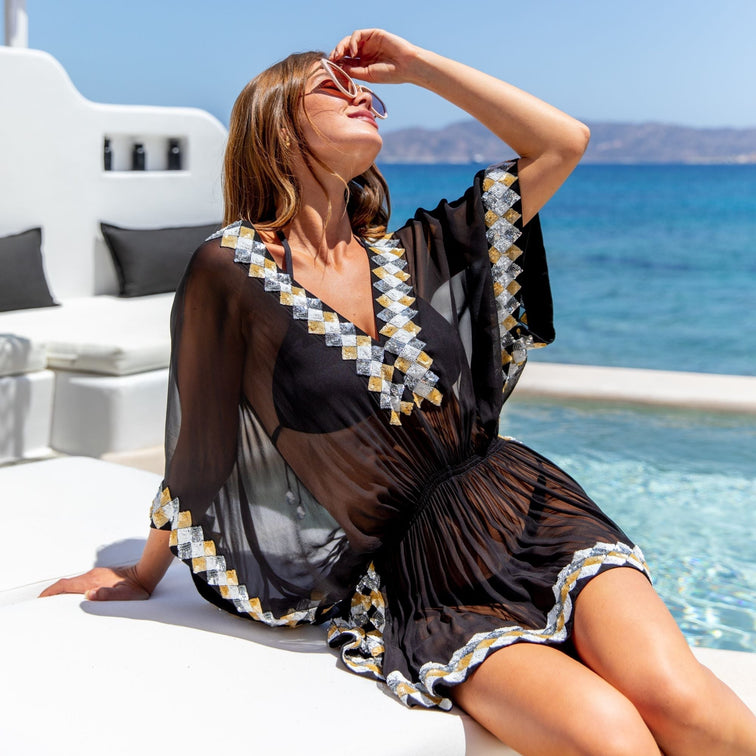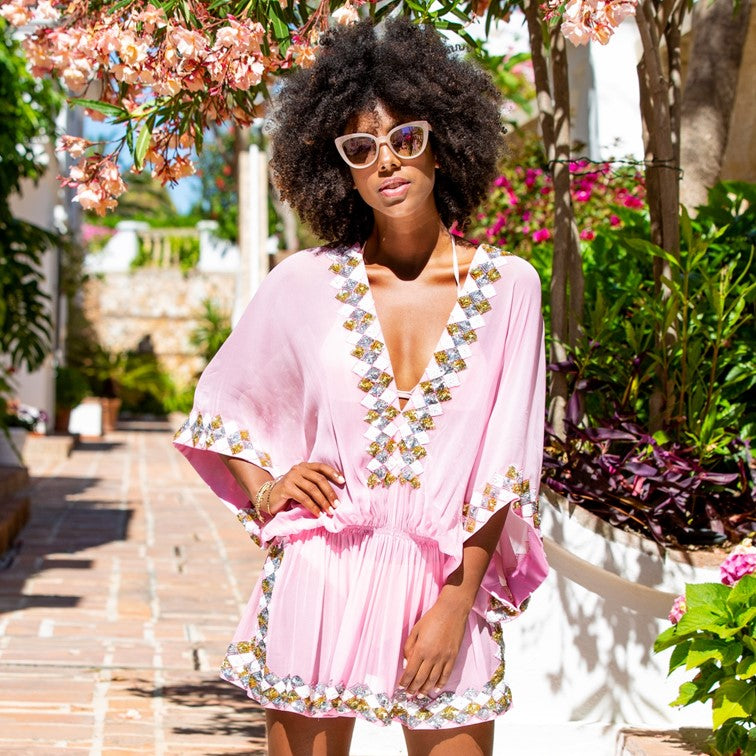 Shop silk Manhattan luxury kaftans by Lindsey Brown. Lindsey Brown's Manhattan short designer kaftans are synonymous with our brand's beautiful style. Every silk Manhattan luxury kaftan is hand crafted by Indian ateliers, who practice traditional artisan techniques. The Manhattan silk designer kaftans has been carefully designed to flatter all body shapes. Neck and hemlines are beautifully hand sewn and fully lined, creating stunning long lasting, timeless designer kaftans that will be in your wardrobe for a very long time. 
Our Manhattan silk designer kaftans are named after the buzzing metropolis of New York Manhattan. Floaty butterfly sleeves and shimmering sequins are inspired by the glitter and glam of Studio54. We have spotted our Manhattan silk designer kaftans on fashion bloggers like Anna Mavridis, and celebrities like Kelly Brook have been spotted in OK Magazine wearing the Manhattan Kaftan by Lindsey Brown. Our celebrities always look fabulous in the short silk designer kaftans by Lindsey Brown.
These silk luxury kaftans are so versatile, you will wear your beautiful Lindsey Brown resort wear Manhattan in so many ways. Our pretty silk designer kaftans and our drop waisted silk beach dresses are perfect to take you from beach to bar for sundowner cocktails and stylish to wear at any pool party in the Caribbean or Dubai. See fashion icon Anna Mavridis wearing our stunning Manhattan orange designer kaftan. These silk luxury kaftans are one size, they truly fit all sizes from small to xlarge as the shoulders can be tied at the back and the body has a soft elasticated waist.