Designer Kaftans to wear on holiday
Explore our collections and appreciate the beauty of our exquisite holiday dresses and floaty flattering designer kaftans, designed to transport you to sun kissed destinations all year round. Whether you're jetting off to the breath taking beaches of Barbados or the idyllic islands of the Maldives, our winter sun collections and summer holiday edits are meticulously designed and hand crafted to ensure you look and feel fabulous on every holiday.

Immerse yourself in the luxury of our silk floaty maxi dresses, expertly tailored to embrace your every curve and accentuate your natural beauty as the silk fabrics we use, drape beautifully on your skin. From sun-drenched days to enchanting evenings, our silk resort wear effortlessly transitions from one holiday to the next, allowing you to radiate elegance and sophistication at any occasion whether it be a wedding in Majorca or a summer wedding in Greece, our dresses are just perfect. At Lindsey Brown luxury resort wear we believe that every moment deserves to be celebrated in style. Our exclusive designer kaftan styles designs combine timeless elegance with contemporary flair, creating a harmonious fusion of classic and modern aesthetics. Each dress is meticulously crafted with the finest fabrics and intricate details, ensuring a truly luxurious experience.
Indulge in the ethereal beauty of our holiday dresses and embark on a journey of self-expression and confidence. Let our exquisite designs become an extension of your unique personality, allowing you to make a statement wherever you go. Whether you're lounging by the pool, exploring exotic markets, or sipping cocktails at sunset, our resort wear will effortlessly elevate your style. Experience the enchantment of Lindsey Brown luxury resort wear and embrace the allure of timeless holiday dressing and resort wear elegance. Discover the perfect holiday dress to accompany you on your next sun-soaked adventure and create unforgettable memories in the most exquisite destinations around the world.
From silk designer kaftans to floaty silk printed designer kaftans, browse our what to wear style guides as we suggest beach kaftan cover ups to pack for your luxury holiday. Whether it is a selection of cotton coverups for a Caribbean cruise holiday or the best holiday dresses to wear in Mykonos, we have created style guides to help you choose your holiday outfits. As a resort wear brand we really do know what you need to pack for a Caribbean Cruise holiday. Whether you are island hopping through Jamaica and Tobago or stopping off for a few days on the islands of St Kitts and Barbados, our designer kaftans and designer beach dresses are must have items for or a humid Caribbean climate. Our beautiful silk and cotton fabrics allow the body to breath in warm sunshine an you will effortlessly dressed to perfection on your Caribbean cruise.
WHAT TO PACK FOR A CARIBBEAN CRUISE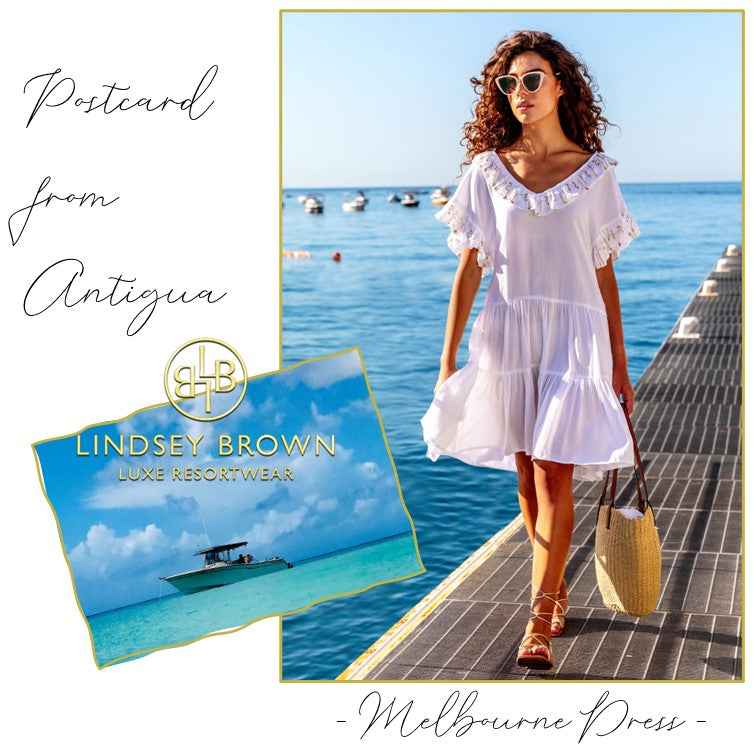 WHAT TO PACK FOR A TWO WEEK CRUISE
Plan your holiday wardrobe for a two week cruise, cruise holiday with our expert advice on what cotton and silk resort wear to pack.
BRIGHT COVER UPS FOR A CARIBBEAN CRUISE
Set Sail in Style wearing our cool floaty silk kaftans in an array of sizes from small to 7xlarge. Stunning exclusive prints, created by hand by Lindsey Brown.
DRESSES FOR CARIBBEAN ADVENTURES
Dresses FOR ST. LUCIA
Embrace the tropical vibes with our collection of cool cotton dresses and silk floaty beach dresses for your St. Lucia Caribbean adventures.
BLACK BEACH DRESSES
Black designer beach dresses to wear day or night in the Caribbean. Stay stylish wearing our black designer beach dresses on your next getaway.
Lindsey Brown resort wear has holiday dresses all year round. Our winter sun collections are perfect for jetting off to Barbados or the Maldives. You will look and feel fabulous in our luxurious floaty maxi dresses for all occasions from day to night. Designed in an array of stunning summer colours and vibrant exclusive patterns. Maxi holiday dresses made from natural fibres that are perfect to wear in the heat. Browse our silk kaftans to wear poolside and to stroll around your resort in. Stylish soft cotton and loose-fitting beach dresses in a light weight and breathable fabric perfect for the hot Caribbean climate. Our dreamy maxi dresses in floaty luxurious silk is designed to flatter all body shapes and will have you dressed to perfection for dinner and cocktails. Lindsey Brown luxury resort wear provides the ultimate luxury holiday wardrobe for the Caribbean.
LUXURY RESORT WEAR FOR CARIBBEAN ISLANDS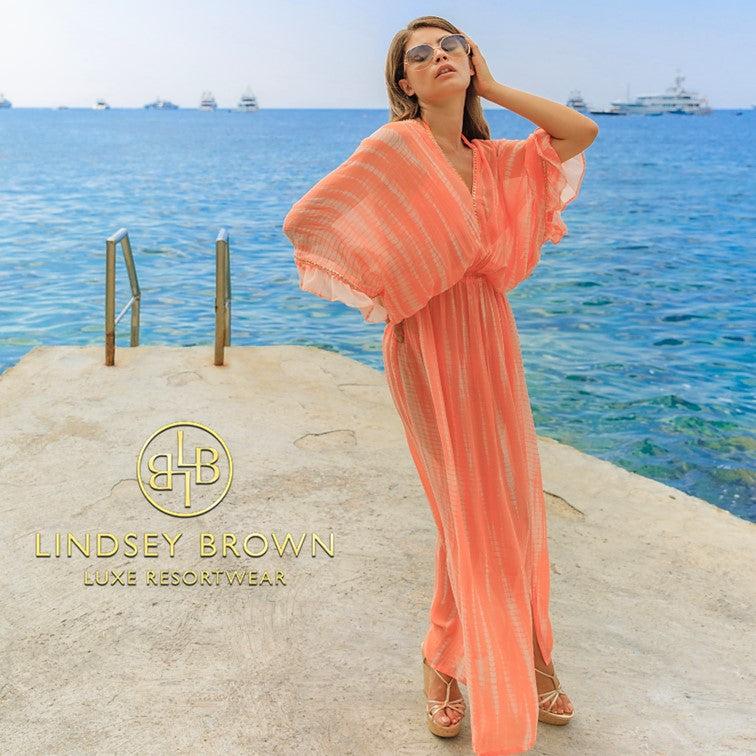 KAFTANS TO WEAR IN THE BAHAMAS
Dive into the world of paradise with our silk resort wear specially designed for the Bahamas. in pretty pastel shades. Feel effortlessly dressed.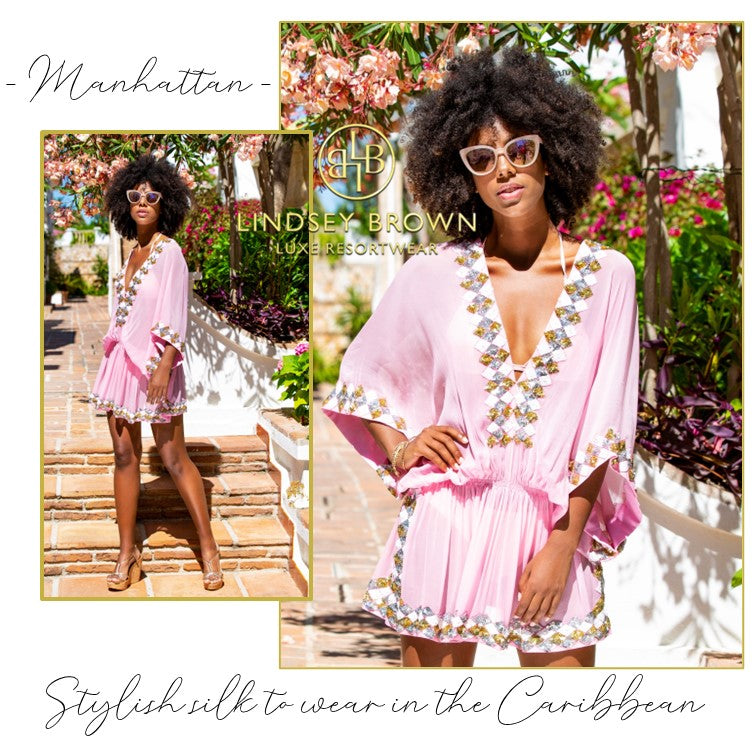 DRESS FOR HOLIDAYS IN MYSTIQUE
Discover the enchanting charm of silk floaty maxi dresses for luxury dining, on your next island adventures in Mystique.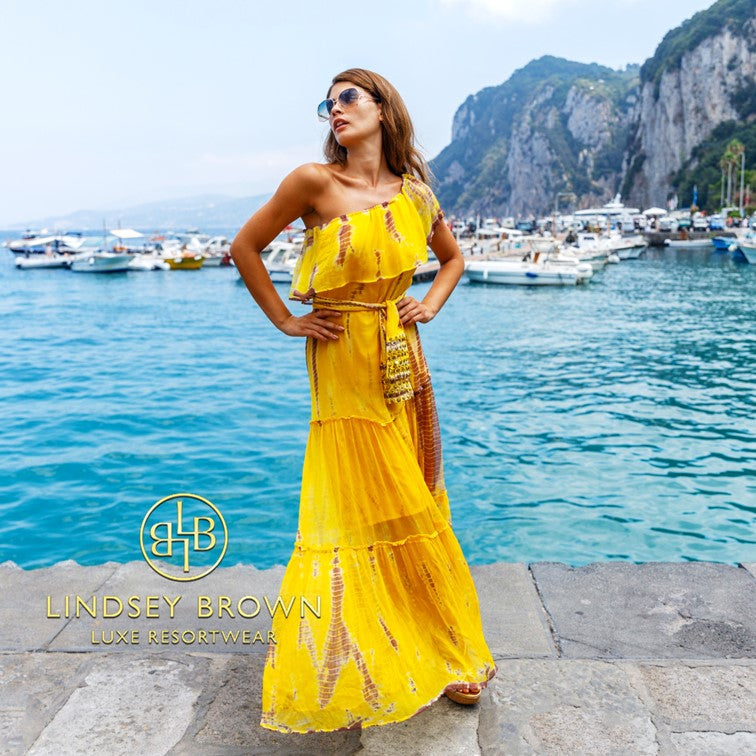 SILK DRESSES TO WEAR IN BARBADOS
Step into a world of vibrant elegance with our collection of colourful silk dresses that are perfect for wearing in Barbados.
BEACH CLUB & RESORT STYLE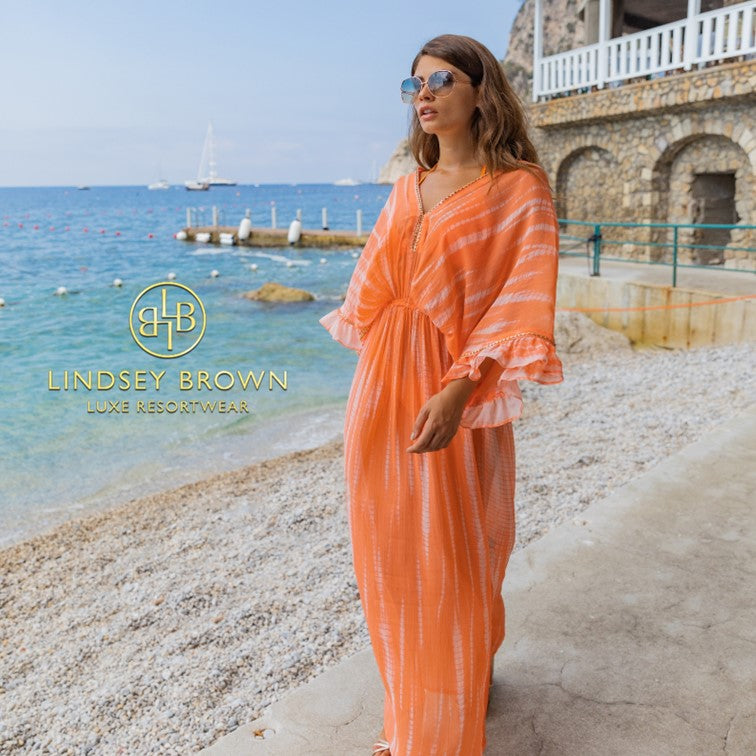 BEACH CLUB PARTIES IN THAILAND
Elevate your beachside style with our sophisticated resort wear. A perfect match for Thailand's most prestigious beach clubs.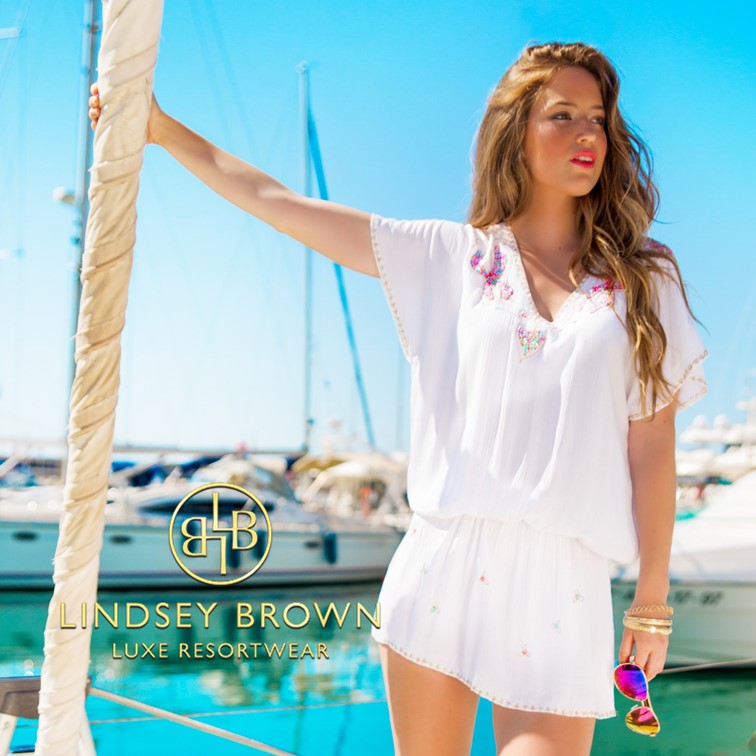 WHAT TO WEAR IN TURKS AND CAICOS
Elevate Your island style with luxurious cotton beach dresses that are Perfect for exploring the humid Turks and Caicos Islands.
We have put together style guides of what to wear when visiting the breath-taking Amalfi coastline. Wander through the spectacular hillside villages in cool flowing maxi kaftans in pretty shades of aqua's, blues and pinks. The Lindsey Brown photo shoots of our latest summer collection of resort wear was taken in the pretty coastal towns of Positano and sunny day trips to the dreamy Isle of Capri. Perfect settings for floaty summer silk dresses and beautiful beach kaftans that can all be paired with wedges or sandals for the picturesque, cobbled step streets of the Amalfi Coast.