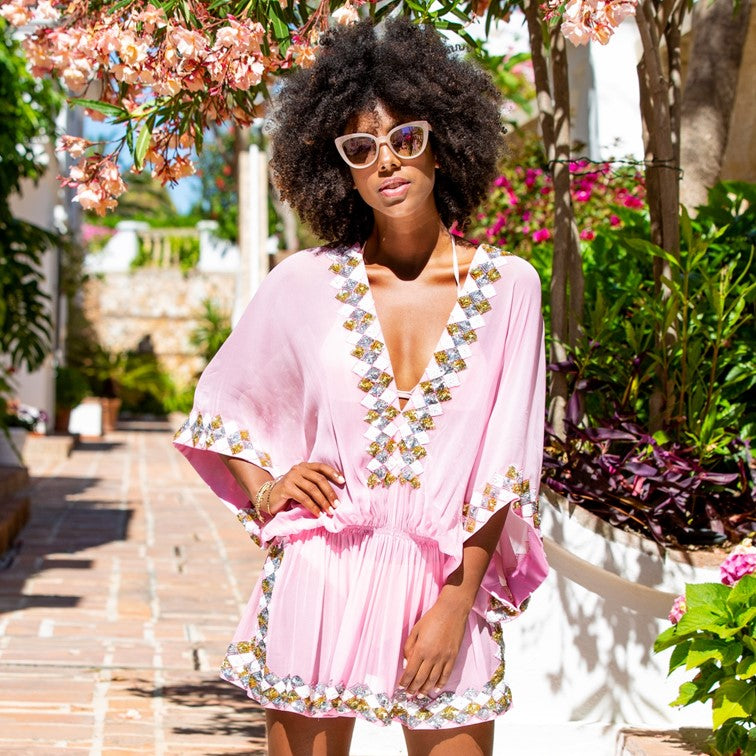 Designer sun dresses to wear in Barbados. Welcome to Lindsey Brown designer resort wear, where elegance meets the sun-soaked shores of Barbados. Our collection of designer sun dresses are hand crafted in soft cotton and natural fibre silks, to elevate your style as you bask in the Caribbean sunshine. Whether you're strolling along the boardwalk of Holetown in Barbados or sipping cocktails at a beachfront bar, our designer sun dresses will make you the epitome of style and sophistication. 
Indulge in the luxury of our designer sun dresses and resort wear, specifically designed for the tropical paradise of Barbados. Our light weight summer dresses and sun dresses are the epitome of sophistication, featuring exquisite details and flattering silhouettes that will make you feel like a true goddess. All our holiday dresses are made of natural fibre soft cotton and silk, to keep you cool and stylish in hot humid Caribbean sunshine. Whilst our floaty silk sun dresses are made of layers and metres of silk, they can be easily folded into your suitcase as they are very easy to care for on holiday. We suggest packing your silk holiday dress into a t-shirt or pillowcase within the centre of your suitcase, to protect the fabric. On holiday, hang your dress in your bathroom and the steam from the shower will remove all the creases. Another tip before travelling is to check on the voltage of our destination as hand steamers are light weight and so much more effective than a travel iron. You can use a steamer against the silk fabrics of all our holiday dresses and silk sun dresses. 
Our designer sun dresses are not just garments they are works of art. Each dress is meticulously handcrafted using the finest fabrics and embellishments, ensuring unparalleled quality and attention to detail. From delicate lace to intricate embroidery, every stitch tells a story of elegance and refinement. When you slip into one of our sun dresses, you will feel the quality of the silk fabric as if it was made exclusively for you. We carefully tailor the cut and flowing silhouettes of the sun dresses for each size, altering the necklines, waist and hips of each dress sizes.
Shop now and discover the perfect luxury beach dress to make a statement in Barbados. Shop for summer sun dresses all  year round at Lindsey Brown, with our timeless sun sun dress styles that you can wear on every holiday across the Caribbean. If you prefer a short beach dress we also have a great variety of knee length holiday dresses and shorter designer beach dresses. Your journey to effortless resort wear style starts here.