SILK DESIGNER KAFTANS, SUN DRESSES AND COTTON KAFTAN DRESSES. BEACHWEAR COVER UPS. DREAMY SILK HOLIDAY DRESSES.
Lindsey Brown luxury resort wear is the perfect mix of timeless floaty silk designer kaftans, to wear both day or night. Feminine and flattering sun dresses in a mix of both effervescent and warm colours, echoing Lindsey Brown's personal style. Shop our new collections for your Winter sun holiday, with exclusive styles and prints designed by Lindsey Brown luxury resort wear.
BEACHWEAR NEW ARRIVALS
Elevate your holiday style with our luxury silk beach kaftans and lightweight summer dresses. Choose from bardot beach dresses, sleeveless holiday dress styles in light weight soft cotton. Stay stylish in our flattering and floaty silk beach kaftans and silk maxi kaftan dresses in sizes xsmall to 7xlarge. All year round beautiful beachwear by Lindsey Brown luxury resort.
REviews from our lovely customers
BROWSE ALL OUR COLLECTIONS
LINDSEY BROWN
Lindsey Brown is a British luxury resort wear brand, designed by Lindsey and hand crafted by skilled artisans in England, India and Morocco. All garments are lovingly checked steamed and packed in the UK.
Monday to Friday : 9am-5pm
Saturday : 9am-12noon
Sunday : Closed
OFFICE CALL :  +44 (0)116 2414627
WHATSAPP :+44 (0)7501 959141 
EMAIL : orders@lindseybrown.com
ONLINE CHAT : Monday - Sunday
SIGNATURE LINDSEY BROWN STYLES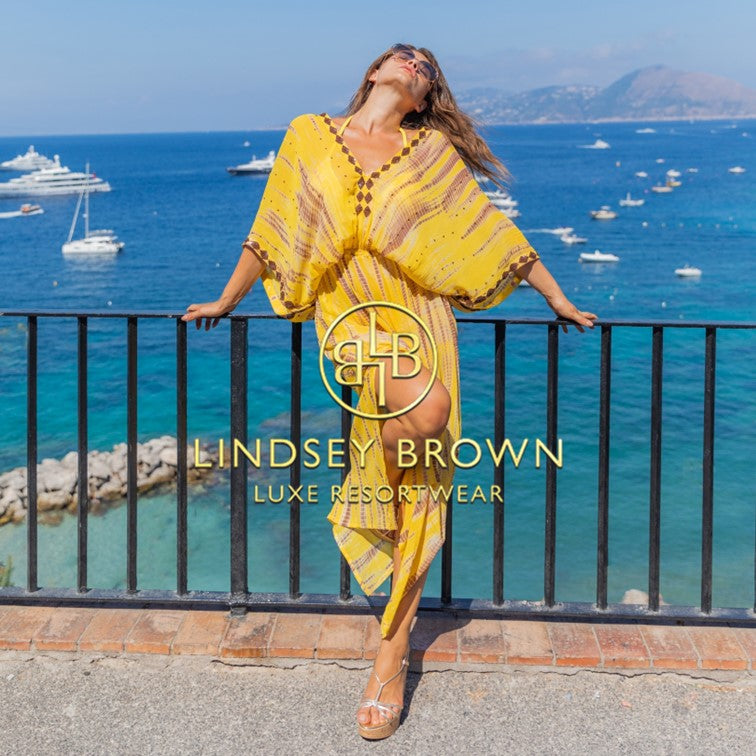 THE HAVANA MAXI
Our Havana silk maxi kaftan evolved from our cotton maxi kaftans and the desire for a fuller coverup whilst keeping the essence of Lindsey Brown resort wear style. Havana drapes beautifully and features our sequin pattern that decorates the neckline and sleeves. Havana is one of our all time best sellers with new colours added to our black and blush pink collection each season. An original design by Lindsey Brown.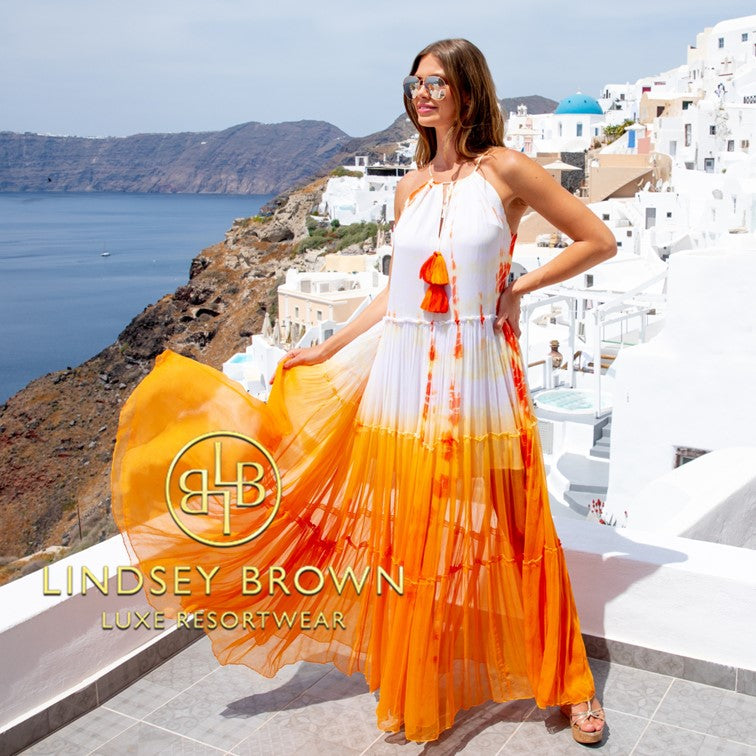 THE SANTORINI
We created the ombre hemline a dipped hemline with our first yellow silk Santorini maxi dress, named after our summer photoshoot on the beautiful Island of Santorini. Over nine metres of white silk are sewn to create this tiered dress and the white dress is dip dyed as a whole dress to merge the colours. Once dry the dress is tie dyed with a contrasting tone. An original dress shape and design by Lindsey Brown.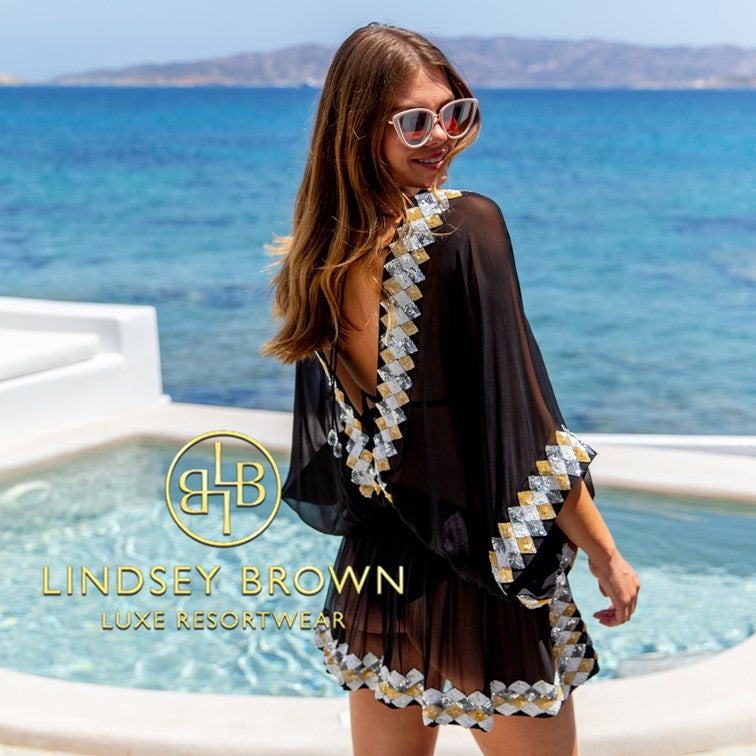 THE MANHATTAN
Our Manhattan silk kaftans feature our unique hand sewn interlocking sequin pattern that decorates the hemlines, neck and sleeves. Beautifully hand finished the sequin areas are lined by hand so you don't see the stitching. This exquisite craftmanship of our luxury resort wear ensures your Manhattan silk kaftan lasts. Many of our silk kaftans are based on this iconic shape. An original design by Lindsey Brown.