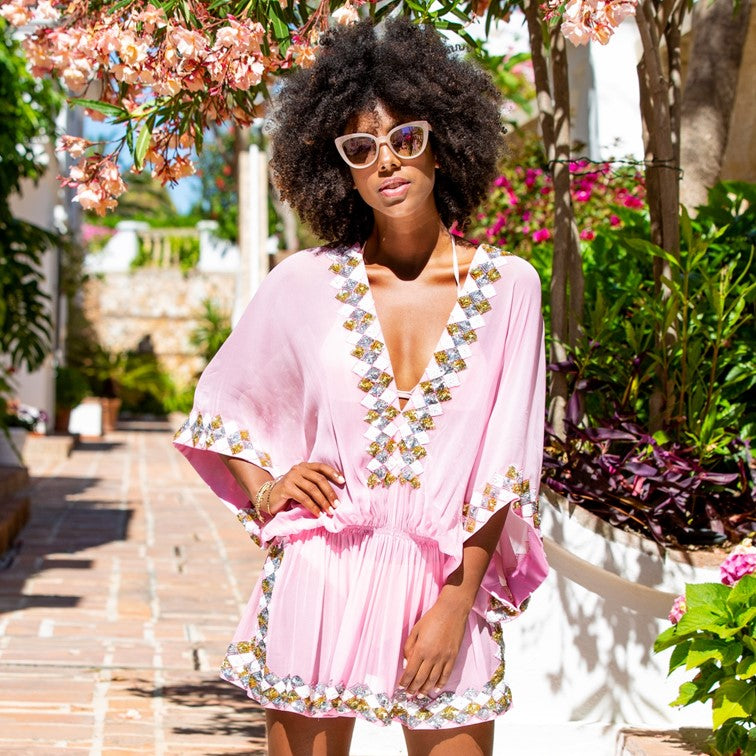 Luxury Kaftans to wear in Marbella
Luxury Kaftans to wear in Marbella
Designer Kaftans to wear in Marbella  we would pack a floaty vibrant coloured cotton designer beach cover ups as we have three shapes to choose from in a shorter kaftan top, an above the knee and a maxi kaftan length. Spain is a relaxed country but some towns request covering up swimwear in towns and villages, our Rhodes luxury silk kaftan is a pretty silk crepe printed cover-up with its floaty sleeves and knee length style is just perfect. Another great style is the beach dress, If you prefer a kaftan dress style, Paloma pretty cotton kaftan dress with hand sewn sequins and drop waist flattering shape is a great choice, as it's loose fitting and very flattering on all dress sizes. Paloma is a versatile beach dress, it looks stylish to wear walking to the beach or to lunch and you can sip poolside cocktails after a day at the beach. Our beautiful cotton beach dresses called Atheni are an iconic style designed by Lindsey to stay stylish and avoid strap marks in the hot midday sun. If you prefer a loose dress style. A great choice if you like a shaped dress, as the soft elastic waistline is flattering and you will feel dresses for sightseeing, lunch, brunch and trips to your village shops. 

For pool parties our iconic silk designer kaftan Manhattan and the new styles of the Capri and Acapulco are the perfect kaftans to wear to feel dressed for the occasion in Puerto Banus and the luxury hotel resorts in Estepona and Marbella. Our top tip is don't leave it to the last minute to start to shopping for your designer kaftans, we could possible sell out and our advice is to plan your outfit. Try on swimwear, plan your shoes and sunglasses, buy a new beach tote bag for daytime and a matching clutch bag for your essentials. Our silk designer kaftan Manhattan is the ultimate pool party outfit, the shape makes you feel a million dollars and suits all dresses sizes. We have so many stunning colours to choose from. Black is the most popular silk designer kaftan we sell in the Manhattan and the pastel shades of pink and aqua shades suit all skin tones. Wear over a swimsuit or a bikini and add tan or metallic wedges of sandals. The Manhattan silk kaftan is timeless and will last a very long time.
For dining al fresco in Marbella on warm summer nights our silk maxi dresses are perfect for a Mediterranean summer. Mykonos is a stunning silk maxi midi off the shoulder dress in turquoise in a light and floaty silk is so flattering. This silk tie dye maxi dress you can wear in so many ways, the Mykonos style is timeless, perfect for any party or occasion all summer.  On cooler days and nights add a neutral scarf or team with a light weight stylish biker jacket. For hot summer Marbella nights in July and August the silk of our silk maxi dresses is perfect as it is glamorous, effortless and very flattering. It's also one of the coolest dresses to wear for every occasion as our natural silk fabric is light and non sticky to wear.  At a luxury resort hotel dining al fresco is so stylish and our vibrant silk holiday maxi dresses called Antigua are also the ultimate dress for any occasion. In bright colours of red, orange, green and turquoise. There is a soft elasticated waist at the back to nip in the waist, the style is loose and floaty and oh so flattering on all dress sizes. 
Marbella is a relaxed Spanish holiday resort with the option of pool parties and luxury hotels to sip cocktails, alongside lazy relaxed beach lunches on the Spanish coastline. You will discover hidden beach bars and rustic restaurants on the endless boardwalk from La Cala to Cabopino that you will revisit for evening drinks and tapas, so you will need a variety of cool cotton daytime and evening outfits. Our Lindsey Brown collection of designer kaftans and luxurious holiday dresses will be just perfect for your next holiday.